Motor Club Of America Breakdown. Is It Legit And How Do You Make Money?
Jonathan Glaser Thursday, January 25, 2018
Share this page with a friend
If you're reading this, then you're probably doing some research on Motor Club Of America. It's safe to say you got here through one of my ads online or through a Google search and are looking for a way to make money from home.
Well, you're in the right place because in this post I'm going to go into full detail about all things Motor Club Of America, including how you can make money promoting it. (The right way)
Watch this short video to get a visual breakdown of the services and testimonies of people who have made life changing income with Motor Club Of America
What Is Motor Club Of America And Is It Legit?
The answer is yes!
This is a real company that has been providing roadside assistance and many other services to the United States, Canada and more recently Puerto Rico since 1926. It was founding by Mr. William W. Green who ran the company along with his brothers up until 1986.
In the 1960's, a person by the name of Mr. Virgil Coffee, began his career with this Motor Club. He previously served as the marketing arm for Pre-Paid Legal, currently Legal Shield and wrote the marketing plan that propelled them into success.
Virgil eventually went on to start his own company called TVC Marketing Associates Inc. which is the parent company of Motor Club Of America.
A man named David Kirshcner was brought on to be president of this motor club company during the 1970's and remains in that position today.
He even has a live show he hosts on Facebook once a week.
That is the brief history breakdown of this company.
Click here for a more detailed account of Motor Club Of America's History.
MCA also has a strong standing Better Business Bureau of A+ as you can see below they have been getting positive reviews.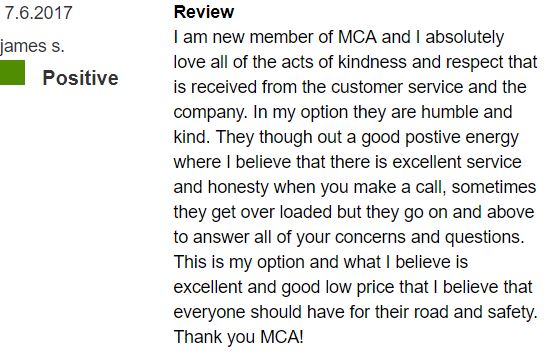 As you can see it provides great services to people when they need it the most.
It also has great standings on Glassdoor with a review of 4.3 stars. You can see a review left by a satisfied customer below: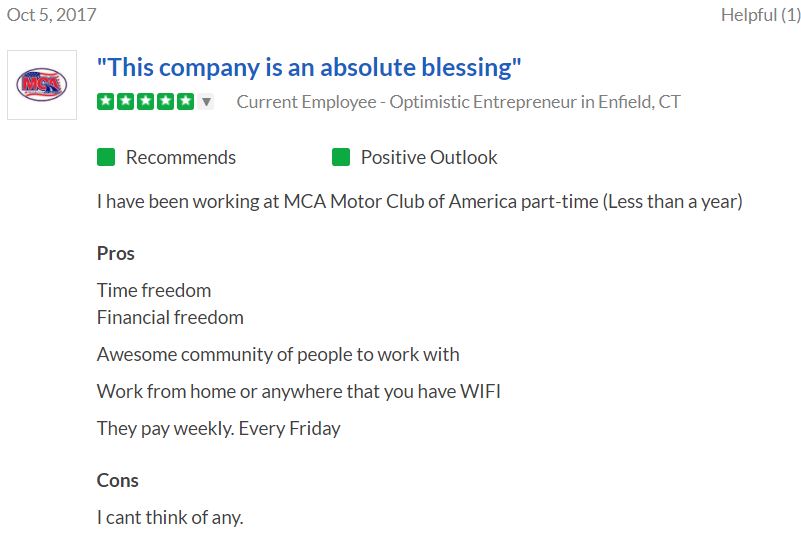 Now of course, there are some negative reviews and experiences with Motor Club Of America's services but that is practically unavoidable with any type of business.
Why Do People Call Motor Club Of America A Scam?
The main reason people often call this a scam is due to being uninformed and often referring to it as an MLM or a network marketing company, where in order to get paid you need to recruit, which it is not.
The business model that it uses to pays its associates with is called a referral program, meaning you get paid to refer customers. This type of business model has been adopted by many companies over the years such as Vonage, T-mobile, Aaron's and some banks are using it as well as real estate companies, specifically those that own apartment complexes.
As You Can See This Is Vonage's Referral Program and you have to have their services to qualify.
Here's another example of a company using the referral program. This one is, you guessed it: T-Mobile!
The main thing that sets MCA's above the rest is they pay $80- $90 per referral, so you can see how alluring this opportunity is.
*Note, I say opportunity because you can make some decent income promoting it from home. Some people have been able to quit their jobs and spend more time with their families promoting this.*
Another reason that Motor Club Of America is mistaken for a scam, is how some associates have promoted the company in the past. They promoted it as a business opportunity and create videos and posts of themselves with cash and entice people to sign up, then leave them in the dust without training or support. This also is a violation of the associate agreement as well. This happened mainly during the early days of its referral plan from 2012-2015.
(As you can see in any review with those dates)
Don't get me wrong, showing money and back office invoices is a very effective method to get leads, as you might be here because you seen one, but you need to also showcase the services that MCA provides as well.
This is less of an issue now, as the company has cracked down on these associates and disabled their accounts.
So to sum this up.
MCA is not an MLM or network marketing company, they pay their associates through a referral program up to $90 per referral.
Click here for a closer look at the comp plan
One last thing, there is a sales override that pays you $6 for each sale a person who signs up under you and promotes the company makes. This is the main reason that you must provide training that is duplicatable to all who join through you.
This is not an uncommon practice as many sales jobs in the workforce have this type of system. An example is car salesmen, the lead floor salesmen gets overrides on all the floor associates.
What Are The Services?
MCA offers a variety of services but their main ones are 24/7 emergency roadside assistance including unlimited towing up to 100 miles per call.
See the summary of all their services below.
Now, one thing you may be asking yourself right now is:
"Are other motor clubs cheaper?"
For instance, a new one that just came out states that you pay only $52/yr and has a $1 week trial period.
My best answer to this is:
Those other motor clubs only offer one or two aspects and also will charge you additional fees if you want more services, that's why they can provide a cheaper price.
MCA offers 3 packages to choose from and each one offers many services in one package, all with no hidden fees.
Of course, you will require proof that people are really using these services and are happy with them.
So, I'm happy to oblige.
See some testimonies below:
Testimony Of The Towing Services
Dental Discount Testimony
This is but a few of the vast testimonies you'll find about Motor Club Of America.
How Do You Promote Motor Club Of America And Make Money?
There are unlimited ways to promote Motor Club Of America.
You can hand out flyers and business cards at auto part shops, laundry mats or other places of business as long as you have permission first.
You can also use decals on your vehicle, or use mail EDDM to send out postcards to targeted areas of your city.
These methods are highly effective, especially if you just prefer to promote the services.
I prefer to promote online, mainly on Youtube, Bing, Craigslist and Facebook.
You can also promote on Instagram and Twitter or any other social media platform.
Like I said, there are unlimited ways.
The best thing to do is find one that works for you and then keep doing it, while you find more ways to increase your results.
I provide extensive training for all these places free for everyone who joins MCA through me and wants to promote it too.
See A Preview Of My Group And The Training You'll Get Access To Inside Below:
One thing you absolutely need to increase your results online is to have a system in place that captures your leads and follows up, especially if you choose to promote the business side.
This is important because it can take up to 7 exposures before someone decides to take action and sign up. Having a system that does all the selling and follows up for you is super crucial.
There are a few systems you can use that are DFY. Meaning all you have to do is copy and paste.
Most you will have to pay for such as MCA Authority, which is the best one in my opinion since you only have to pay $47 annually.
However, if you want a great free system that you can actually generate 3 streams of income with then you will love the Wi Fi Wealth System from my sponsor and mentor Anji Long who provides great training to promote MCA with inside.
Check out proof below of a recent single stay at home mom who made $325 in a day using this system.
It's simply that powerful and the best way to get started making money online due to how simple the comp plan is.
Do You Have To Create A Membership To Get Started?
The honest answer is no. You don't need to purchase a membership to become an associate, however it will be 10 times harder to promote and you will not get the bonuses that comes with being a member such as: charge back protection, commission bonuses, and the sales overrides.
Not to mention, it helps drastically to build trust with future customers or team members if you use the services yourself.
I use them and love having them, especially the prescription, and dental discounts.
That's also the reason I tell all who are interested to only join if you plan on using the services because they are great and getting paid to share them with others makes it so much better!
Here's all you get access to when you join at the total security package:
($39.95 for first and last month. Then $19.95/Mo)
- Unlimited roadside assistance. Towing, Battery, Lockout, Tire, Fuel
- Travel reservations & trip planning
- $500.00 reimbursement in our travel assistance program
- $5,000.00 stolen vehicle reward
- $1,000.00 in credit card protection
- $500.00 arrest bond for small traffic violations
- $25,0000.00 bail bond for negligent homicide or vehicle manslaughter
- $2,000.00 in attorney fee assistance
- Up to $500.00 in emergency room reimbursements as a result of any accident
- Up to $54,000.00 in hospital bill coverage if admitted for any accident
- Up to $50,000.00 paid to you or a family member as a result of death or injury
- MCA members are covered in the U.S & Canada
-Access to the Wi-Fi System
-Access to over $297 in online training by 6 figure earners
-Access to an Facebook group for support and updated training.
If you see yourself making money with Motor Club Of America and like the services than click the button below and sign up.
Then contact me HERE. so I can hook you up with my training and get you plugged in so you can start making $80-$90 commissions ASAP!
I hope I answered all your questions you may have had about MCA. If not, leave a comment below and I'll gladly answer.